Links!
This is the shigure kitty I adopted at the adoption site listed below*huges her shigure kitty* isn't he the just the cutest?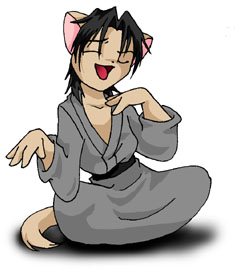 Ghost's Anime Kitties Adoption Center This is where i adopted my oh so cute shigure!

Virtual Kitty Adopt A cute little kitty!
Official Fruits Basket Website The Official Fruits Basket Website. this is my favorite site I just love fruits basket the show is so cute it's got just about every in the show.


Kurama's World





Yu Yu Hakusho This is a very big Yu Yu Hakusho site I would get lost if I went there alone!
Botan's page


This one has no name This site has no name but it dose have a lot of stuff on anime
Pure Gold It's a site to Filia Ul Copt from slayers
Sanctuary This is a cool site for bakura from Yu-Gi-Oh! Check it out
Li Mizu's Yu-Gi-Oh! Shrine to Ryou Bakura OO another nice bakura shrine lots of good pictures and some info i like this site very much
Fruba Characters A Fruitsbasket Character Index with descriptions!